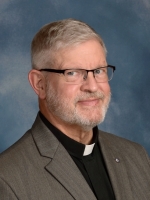 The Rev. Michael Petresky
Pastor
570-366-2316 Ext. 11
717-649-3532
Greetings to you in the name of Jesus Christ!
My name is Pastor Mike Petresky. People call me, "Pastor Mike."
I began my ministry as pastor of St. Paul Lutheran Church in Orwigsburg, PA. on New Year's Day, January 1, 2019. So I am new to this area.
I received a Master of Divinity at the Lutheran Theological Seminary in Gettysburg, PA in 1994, and was ordained as a minister of Word and Sacrament by the Evangelical Lutheran Church of America later that year.
I served as pastor at the First Lutheran Church in Philipsburg, PA from 1994 to 1999. I also served pastor of the three congregations of Halifax Lutheran Parish from 1999 to 2017.
On December 31, 2017, St. Paul Lutheran Church (Enterline) closed and so I served the remaining two churches: Messiah (Fisherville) and St. Peter (Fetterhoff's) as their interim pastor throughout 2018.
I have been married to my wife Sue, for more than thirty years. We have a son, Mike, who lives with us.
I came to St. Paul in Orwigsburg because I value what this St. Paul has done for the sake of the gospel during their long and rich history. I also came here because I believe there are great opportunities to do productive ministry here.
I am what I would describe as a "blue collar" pastor who values our Lutheran traditional as well as creative expression. I believe that God's Word has something relevant to say to us and we can learn alot if we are willing to share who we are and what we know with one another
Finally, I am a believer who gives thanks to God for allowing him to minister to others — with the love of Christ. Believing in Christ and following Him in faith is a great and ongoing adventure!
Please feel free to contact me.
Grace, Peace, Love, and Joy in Jesus Christ,
Pastor Mike Petresky