Several of St. Paul's Families have joined in on St. Paul's Where's Martin Luther Project.  As part of the Here I Stand Traveling Luther program, St. Paul's is participating in this fun activity as part of our Reformation 500 Celebration.  (For more information check out the Traveling Here I Stand Martin Luther Facebook Page by clicking here .) If your family would like a Traveling Luther, they are available at church.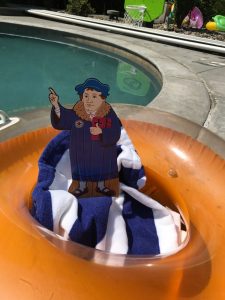 August 9-Martin going for a swim with the Krewson Family.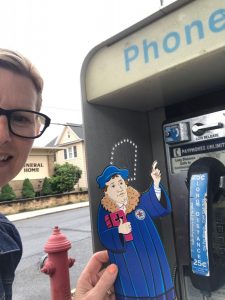 August 9- Martin (and Jill Krewson) found a pay phone in Lehighton.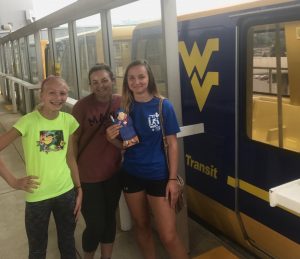 August 12-Martin helped the Bolinsky Family move Hadley into West Virginia University. He even rode the PRT!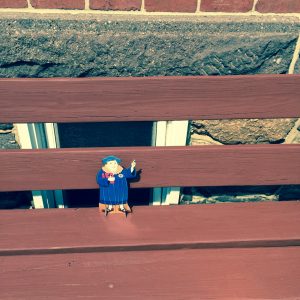 August 15-Martin was traveling around St. Paul's with Pastor D.  Here he sits on the bench outside.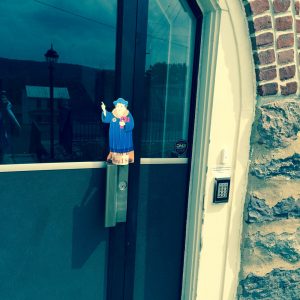 August 15-Martin at the back entrance to the church and the daycare.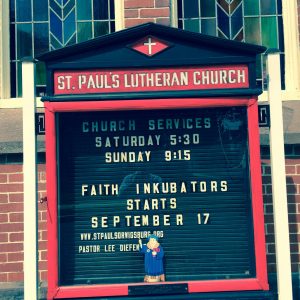 August 15-Martin reminds us about the worship service times and that the Faith Inkubators Confirmation Class starts on September 17.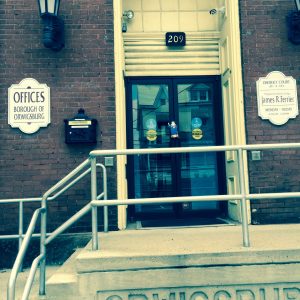 August 15-Martin takes a trip over to Borough Hall with Pastor D.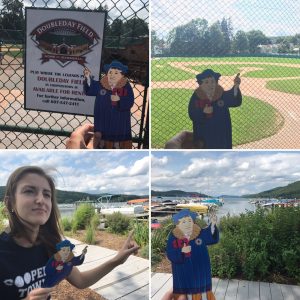 August 20-Martin traveled with Mark & Jessie Travor to Cooperstown, NY (to the baseball hall of fame and the famous field where it all began)and Lake Otsego.
August 20-Martin was on the move again with Barbara Lafko to Auburn, NY.  He stood at next to the Tiffany window at Willard Memorial Chapel and a pulpit at the same church. He also went to the Hazlitt Winery.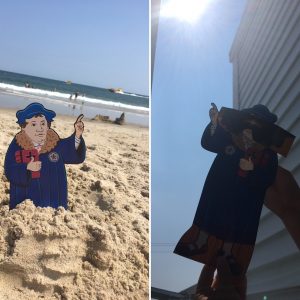 August 21-Martin was in Ocean City, MD to see the solar eclipse with the Swick Family.  He was safe and wore his eclipse glasses.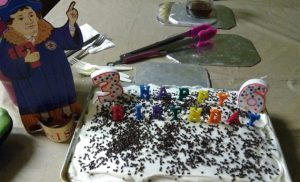 August 22- Martin enjoyed a birthday celebration with Stephen, fiancé of Lindsay Betz, Lindsay Betz and Jennifer Betz.  Happy Birthday Stephen!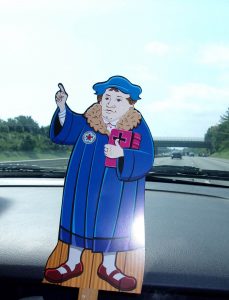 August 23-Martin on the road to Hoboken, NJ with Sue & Juli Schenck.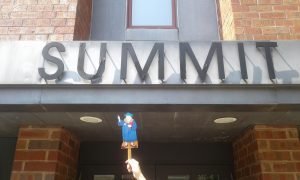 August 23-Martin made it to Kurt Schenck's apartment building in Hoboken, NJ.
August 25-Martin joined Blue Mountain Varsity Cheerleaders Kate Bolinsky & Grace Krewson at the 1st game of the Eagle's football season.
August 26-Martin traveled to the Columbia University College of Physicians and Surgeons with Barb Sterner and the Travor's.  Martin's alter ego "Luther" even showed up at New York Presbyterian-Columbia Hospital.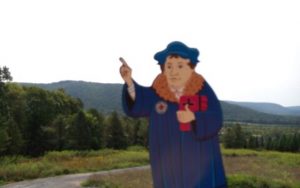 August 27-Martin enjoyed the beautiful view of Hawk Mountain with Mary Timpany.
August 27-It was a beautiful day for a swim with Trisha and Hunter.  Martin really made a splash!
September 1-Martin enjoyed a Babson College men's soccer game with Mary Timpany and Fritz Miller.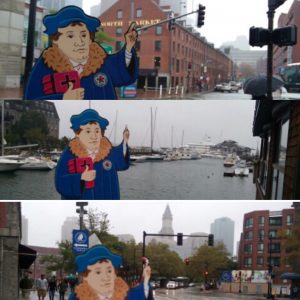 September 3- Martin stopped by the Quincy Market and the Boston Harbor in Boston, Massachusetts with Mary Timpany & Fritz Miller.
September 9- Martin enjoyed a beautiful outing to Second Mountain Sunflowers with Barb Sterner.
September 10-Martin enjoyed the stunning view of Portland, ME with Gwen Wehr.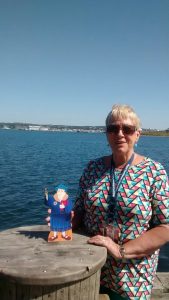 September 16-Martin continues his journey with the Wehrs.  Here he is with Gwen at Queen Elizabeth's Wharf in Halifax, Nova Scotia.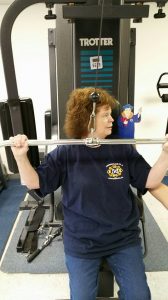 September 19-Martin surprises Maryann Cunningham at her physical therapy session at St. John's Physical Therapy.
September 21-Martin enjoying the warm weather by the pool with Juli Schenck.
September 23- Martin is with Tom Wehr having a great time at the Immigrants Memorial in Nova Scotia.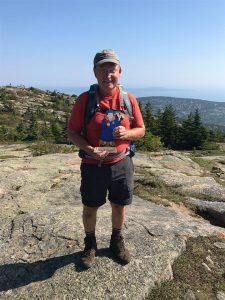 September 25- Martin is with the Johnsons at Acadia National Park.  Here he is with Tom having just hiked Cadillac Mountain.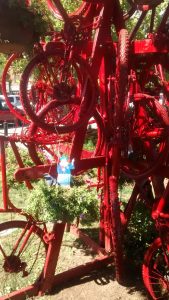 September 29-Martin continued his adventure with Tom & Gwen Wehr at Queen Elizabeth's Warf.  Here he is at the Red Bicycle Sculpture.  He enjoyed a beautiful day!
September 30-Martin joined Kay Weidensaul and Krista Callaghan on a trip to Cape May.  First up on his adventure was enjoying the Penn State vs. Indiana game.
October 1-Martin continued his Cape May adventure and toured the Ellyn Physick Estate.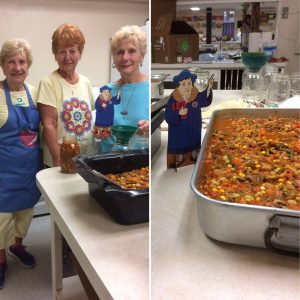 October 6-Martin is back in Orwigsburg helping to get ready for the Service Ministry Bazaar.  Here he is pictured with the delicious Vegetable Beef Soup.
October 7- Martin really enjoyed checking out the Service Ministry Bazaar.  From the amazing baskets to the beautiful mums to the delicious baked goods to the scrumptious soup, he really got around.  He enjoyed the festive day and the camaraderie of all that came out to support the event!
October 13-Martin took off on a cross country adventure with Jeff & Cindy Ritschel. First stop, West Virginia.
October 14- Martin is enjoying all the travel comforts while driving through Bristol, TN.  He loved all the music mentions while driving through the state!
October 14-After a long day of travel, he enjoyed seeing the sights on Beal Street in Memphis.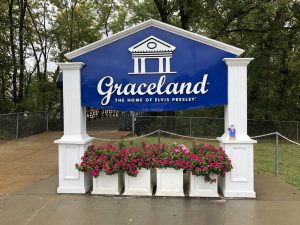 October 15-More music! This time a trip to Graceland, home of Elvis Presley.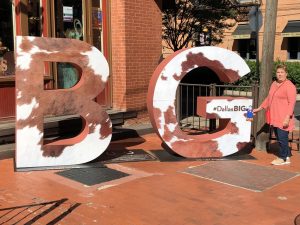 October 16-Here Martin is with Cindy in Dallas.  Wow! He really is on the move with the Ritschels.
October 17- Martin made his way south through TX to the Alamo in San Antonio.  Here he is with Cindy and her cousin, Fran Ferrier.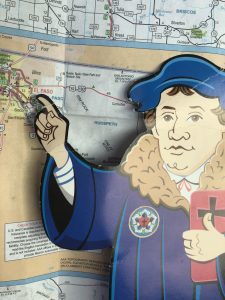 October 19- Martin is headed westward again. This time he spent the night in El Paso.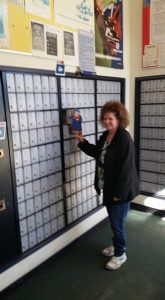 October 20-Martin joins Maryann Cunningham on her errands all around town! Whether near or far we can proclaim the Good News where ever we go.
October 20- Martin Luther and the Ritschels stopping for lunch in New Mexico at Gila National Forest.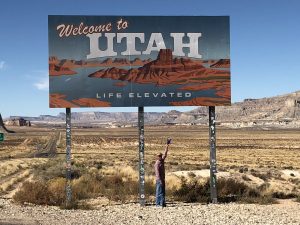 October 21- After driving through a Navajo Reservation Martin and the Ritschels made it to Utah!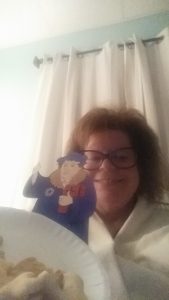 October 21-Maryann discovered that Martin enjoys animal crackers and hot chocolate before bedtime as much as she does.
October 22-Martin took a tour of the canyon.
October 23-Martin made it to California!  Here he is a Death Valley National Park.
October 24-A drive through Yosemite National Park on the way to Oakland, CA.  Martin really is enjoying all the beautiful landmarks and scenery.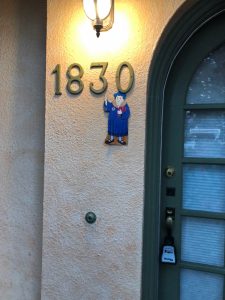 November 2- 1830 Sonoma Way was the Reitschel's & Martin's home away from home while they were in CA for Joel & Cristi's wedding.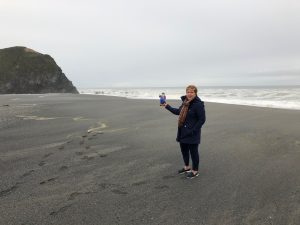 November 3-Martin and Cindy checking out the Pacific Ocean.
November 4- Martin and the Reitschels are on the move again headed north on highway 101.  Look at the BIG TREE they found in the Redwood National Forest.  They made it to Oregon.  Crater Lake had Martin over his head in 1 foot+ of snow!
November 5- The Reitschels & Martin start the trek eastward with a stop at Craters of the moon national monument in Idaho.
November 6- On the move again....this time in Wyoming! So many sites to see in Jackson Hole and Grand Teton National Park.
November 8- Headed east Martin travels on the visor of the Reitschels car and enjoys the view from the window. They travel through Nebraska, Iowa, over the Mississippi River into Illinois & then to Indiana and make an overnight stop at Cindy's brother's house in Butler, Indiana. They arrived safely home in Orwigsburg the next day.